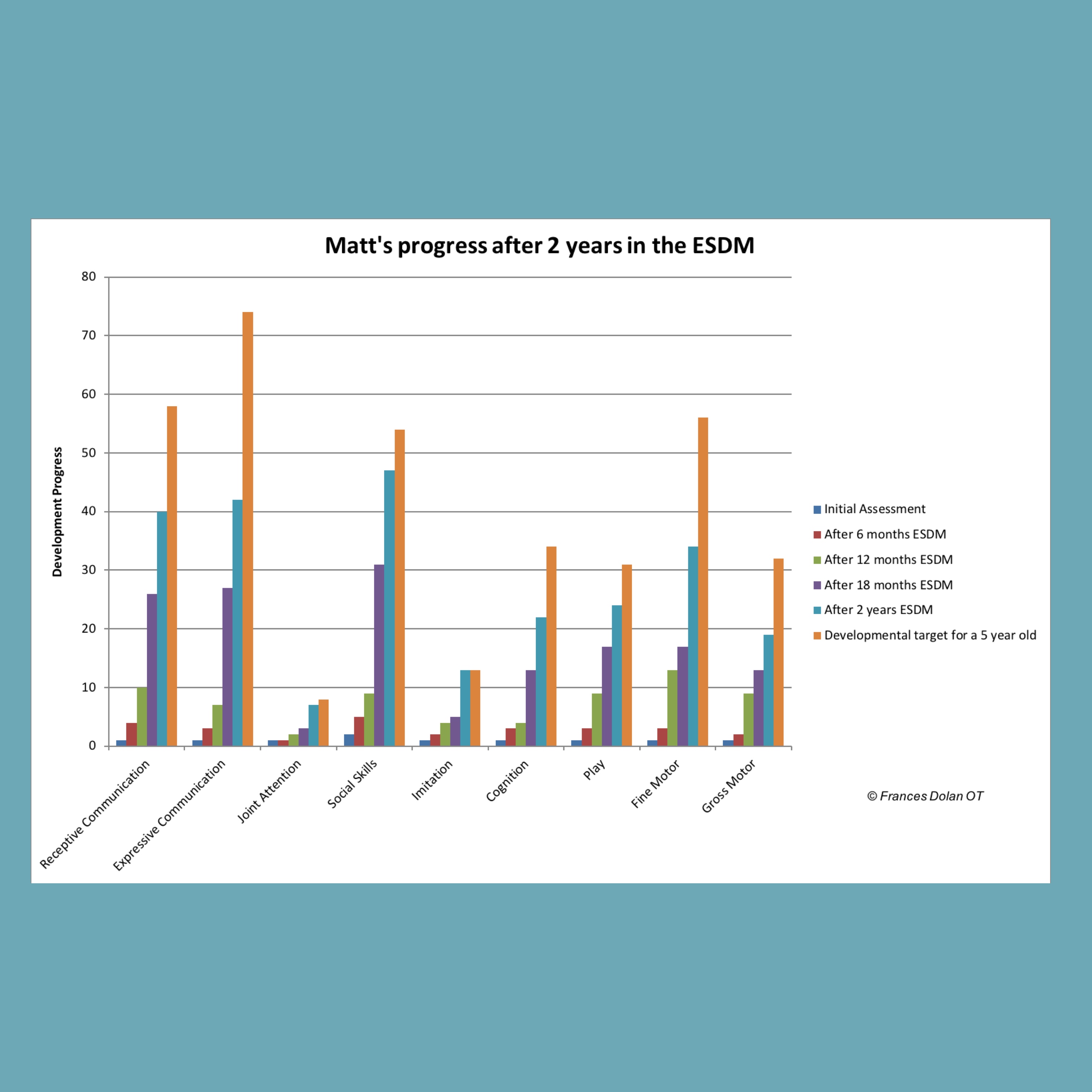 Background
Matt is five years old and he starts school next year. He lives at home with his mother, father and older brother. He loves trains, trucks and farm animals. His favourite TV show is Peppa Pig. Max is one of the 1 in 100 people in Australia living with autism. Let's look at Mattis journey through autism in his Early Start Denver Model (ESDM) therapy.
Initial concerns
Matt's parents were concerned that their son was not talking by the age of two years. He wasn't using words and had no real way of communicating. He didn't seem to listen to them when they talked to him. Matt didn't show any interest in toys except for trucks. Matt could spend hours lying on the lounge room floor playing with trucks. He was frustrated when his mother gave him other toys and threw them across the playroom. Matt crawled and walked later than expected. He started walking at 18 months but stumbled and fell often. Matt refused to walk long distances and insisted on sitting in the pram when the family went out. He loved books and his parents read many stories to him each night. However, he insisted on holding the books and wouldn't let his brother share the book reading time. Max's parents decided that their son needed some help.
Diagnosis
Matt parents visited the GP to discuss their concerns. The GP told them to have a developmental assessment because Matt was behind in some areas of his development. Matt had an assessment 3 months later and he was diagnosed with global developmental delay and autism. This came as a huge shock to his parents. While they knew their son had a delay and probably needed Speech Pathology and Occupational Therapy, the possibility of autism had never occurred to them. Let's look at Matt's journey through autism as he progressed through the Early Start Denver Model (ESDM).
What happened after the diagnosis of autism
The diagnosis of autism was such a shock to Matt's parents that they chose to have counselling for themselves first. There was a lot of tension in their relationship around the diagnosis of autism. They knew that this had to be addressed if they were to help their son. Matt's parents started seeing a counsellor very soon after the diagnosis. They continued their counselling sessions while they decided what intervention to choose for their son. The parents learned about the Early Start Denver Model, or ESDM, through their counsellor and Matt started intervention six weeks after his diagnosis.
Progress through the ESDM
Matt's progress though the ESDM has been slow but steady. While some children respond rapidly to intervention, other children take longer to progress. They need more teaching and more repetition. Matt's goals were reviewed every 10 weeks and his progress was carefully monitored. While his progress was consistent, Matt's parents were concerned that the progress was too slow for him to start in a mainstream school. At the age of four years, his parents increased the frequency of his ESDM sessions to see if progress was faster.
Where is he now?
After nearly three years of intervention under the Early Start Denver Model, Matt is at Level 4 of the curriculum in all areas of development. He follows instructions and answers questions. Matt loves to play with more toys now. If he selects a truck, he plays with it appropriately. His parents were thrilled when he started setting up his Duplo farm set and playing with it in the same way that his brother used to. Matt has recently made a friend and loves his playdates with her. He still finds physical activity more challenging but he enjoys climbing on the equipment at the playground. He isn't completely toilet trained and this is a major focus for summer.
Matt became very anxious about six months ago. We referred him to a psychologist who has worked with the family. Matt's anxiety has improved and the family will keep using positive behaviour strategies to manage his anxiety.
The next steps
Matt starts school next year. He is going to the local mainstream school where his brother is in Year 2. Matt will have 3 hours of support each day on the classroom. This will help him transition into school, and help him learn in the classroom.
Matt will keep working thought the  ESDM curriculum until it completed. Then the focus for intervention will be Speech Pathology and Occupational Therapy. The goal is to continue to build his communication, learning and motor skills.
What is the parents one piece of advice to other families?
Matt's parents believe that counselling was very important for them. His father said "The diagnosis of autism put a huge strain on the relationship between my wife and I. It still isn't easy. However, we continue to work together to do the best for our son. We are both looking forward to him starting school next year".
Read more about different families and their journey with autism:
How do I find out more about the ESDM?
OneOnOne Children's Therapy is located in Bondi Junction in Sydney. We train our team of ESDM therapists, Speech Pathologists and Occupational Therapists to the highest levels of fidelity so we can improve children's lives. If you want to find out more about the ESDM, then call our clinic on (02) 80657837 or email us.