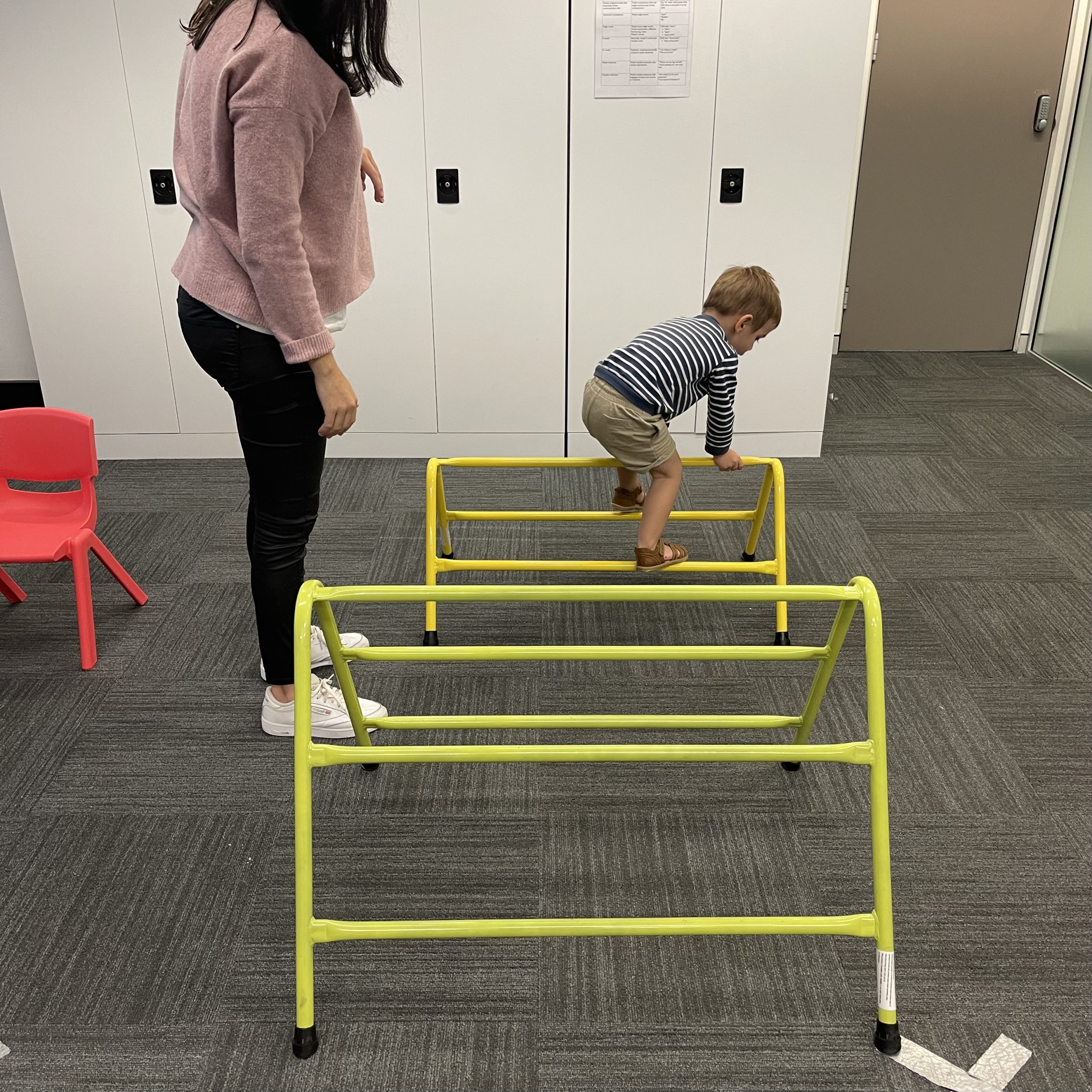 WHAT ARE DEVELOPMENTAL DELAY AND GLOBAL DEVELOPMENTAL DELAY?
Developmental delay and global developmental delay are the terms used to describe a child whose development in delayed.
WHAT IS CHILD DEVELOPMENT?
Child development is the order or sequence that children acquire skills as they grow and learn. Children follow a general pattern of development. We expect children to learn things within a particular time frame, and we expect this across all areas of development. The steps in each area of development are called developmental milestones. Each developmental milestone has an age range that we expect the child to develop the skill in:
Children usually start using their first word between 12-16 months
They should start walking between 12-18 months
We are looking for them to use toys in pretend play between 18-24 months
WHAT ARE THE AREAS OF CHILD DEVELOPMENT?
Children develop skills across the following areas of development:
Social and emotional development:  This is the ability to relate to and form relationships with people. It includes the ability to understand and expressive emotions. It also refers to being able to be control emotions. Babies do this when they smile and make sounds to interact with their parents. In toddlers and preschoolers do this when they show things to their friends, ask for help and take turns in games.
Cognitive skills: This is the ability to think, learn and solve problems. Babies are very curious and explore the world with their eyes, ears and hands. This is the beginning of their cognitive skills. Toddlers develop cognitive skills when they learn to colours, shapes and numbers.
Speech and language skills: This is the ability to understand what others are saying or communicating to use. It also includes the ability to communicate or talk back to people. Babies do this when they make sounds and babble. Young children do this when they follow instructions, answer questions, gesture and talk to people around them.
Fine and gross motor skills: This is the ability to use small muscles (fine motor) of your body, and large muscles (gross motor) of your body to move around your environment . Babies use fine motor skills to hold and play with toys. They use gross motor skills as they sit up, roll over and walk. Young children use fine motor skills as they draw, cut and thread objects onto a string.  They use gross motor skills as they jump, run and climb stairs.
Self care skills: This is the ability to do everyday tasks for yourself. For children it includes the ability to dress themselves, go the toilet and brush their teeth.
WHY IS THE DEVELOPMENTAL SEQUENCE IMPORTANT?
Checking a child's developmental milestones helps us to make sure that your child is on track for their age. When the GP or local nurse asks whether your child is rolling over, walking, talking or toilet training, they are making sure that everything is happening in the right order and at the right time. Developmental charts are used as a guide to track a child's development. This can highlight any areas of concern. It is important to note that they are only guidelines and some variation is expected. Just because  a child may be slower at one thing, it does not necessarily mean they need intervention.
If a child's development is slowing down it is critical that this is picked up as early as possible. If intervention is needed to help a child's development it is vital that this starts as early as possible. There is so much research to support the difference that early intervention makes.
WHAT IS DEVELOPMENTAL DELAY?
Developmental delay is the term we use when a child is slower to achieve developmental milestones than other children. Developmental delay can occur across all areas of a child's development.
We know that children don't all develop on a strict timetable. Some toddlers walk at 9 months and other toddlers walk at 16 months. Both of these are considered to be normal. When we look at a child's development we aren't look for minor differences. We are looking for the child who is continually behind in development compared to other children of their age.
If a child isn't saying words at 18 months then they may just be taking a bit longer with that skill. However, if they don't imitate sound that their parents say and don't have a variety of different consonants in their babble then they are behind in more than one area of communication. That's a sign of a developmental delay.
WHAT ARE THE SIGNS OF DEVELOPMENTAL DELAY?
This varies between every child but the signs can include:
Trouble understanding questions and following instructions
Difficulty making sounds or clearly saying words
Difficulty co-ordinating breathing with talking
Slower in the ability to talk in sentences
Being much later to roll, crawl and walk
Poor balance and tripping or falling more often
Trouble picking up and holing toys, or difficulty playing with toys
Problems with spatial awareness and having trouble putting puzzle pieces in or knowing left from right
Difficulties using the correct pencil grip and writing quickly and easily
Talking longer to toilet train and bed wetting
WHAT IS GLOBAL DEVELOPMENTAL DELAY?
A developmental delay can occur in just one or two areas. A global developmental delay is when a child has a developmental delay across several areas and it has been present for more than 6 months.
WHAT CAUSES GLOBAL DEVELOPMENTAL DELAY?
There are many possible reasons for global developmental delay. They can include serious illness or difficulties at birth. They can be due to hearing problems or vision problems. Sometimes their is no reason. Some reasons are short term and other reasons are permanent. As children get older they may be diagnosed with a different disability such as autism or intellectual disability. The new diagnosis replace global developmental delay. Children after the the age of seven years are not diagnosed with global developmental delay as it refers to development in the early years of a child's life.
DEVELOPMENTAL DELAYS AND LEARNING DIFFICULTY OR ATTENTION PROBLEMS
In young kids, delays can be the first sign of that a child may have learning and attention issues at school. A speech and language delays may lead to difficulty learning in class and learning to read. A fine motor delay can mean that s child struggles to learn to write at school. A child who was later to learn all the gross motor skills may find it harder to sit on the may or at the desk at school.
We can't always see the link between delays and learning and attention issues until a child starts school. It becomes apparent when children begin to learn maths, reading and spelling. Teachers are able to see if a child can focus and concentrate in the classroom.
WHAT DO I DO IF I AM CONCERNED ABOUT MY CHILD'S DEVELOPMENT?
You have lots of options if you are concerned:
The most important thing to do is to talk to somebody who is experienced. They will tell you if your child needs any help. Don't rely on the grandparents or your friends at playgroup. When a child does need help, the earlier the help the better. Some children don't 'grow out of' developmental delay.
WHERE CAN I FIND OUT MORE ?
OneOnOne Children's Therapy is located in Bondi Junction and Mascot in Sydney. Our team of Speech Pathologists, Occupational Therapists and Psychologists have the knowledge and experience to support children with developmental delay and global developmental delay. If you want to find out more about tour services call our clinic on (02)80657837 or email us. We are always very happy to answer any of your questions.