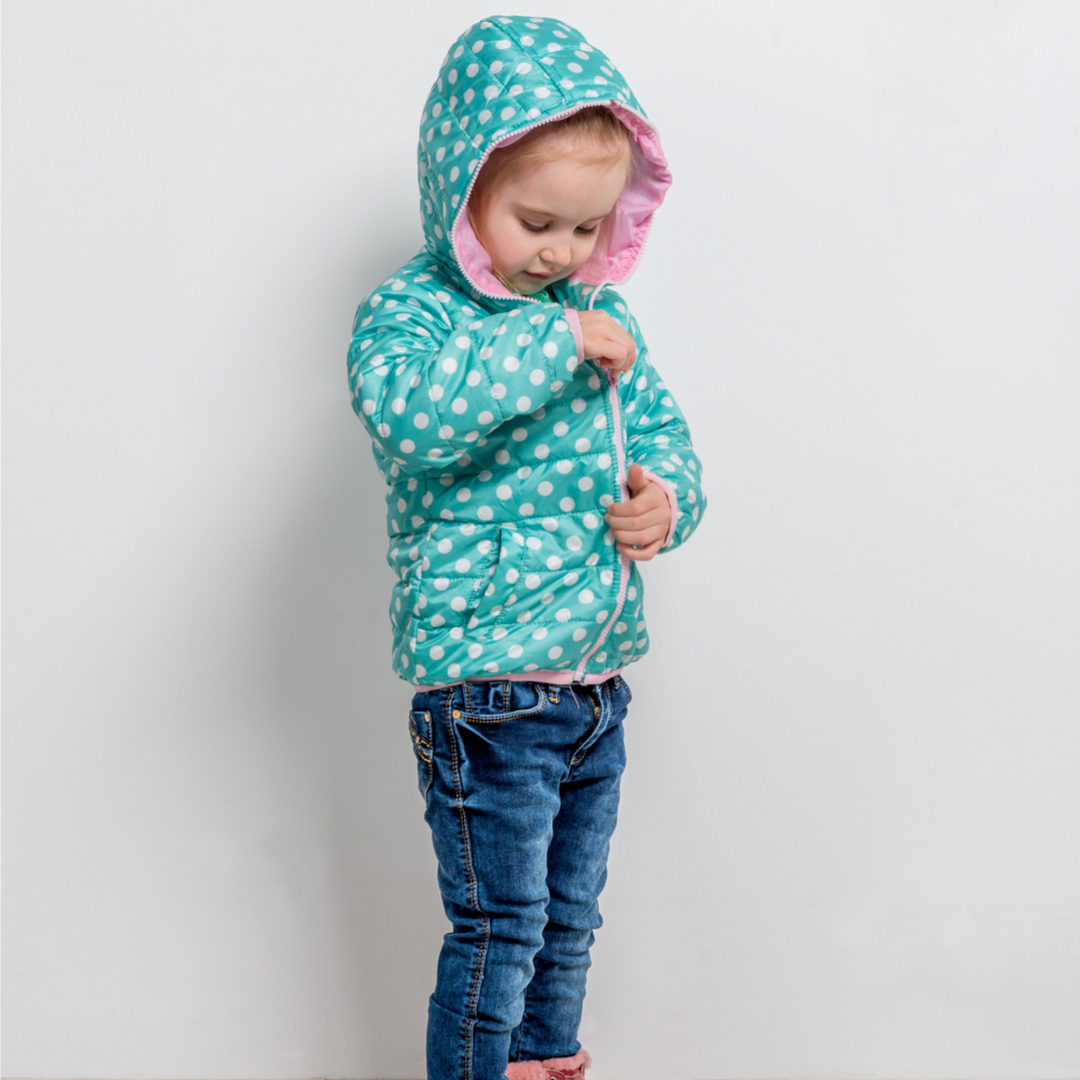 Developing independence in self care skills is one of our goals for all children. Children love the sense of accomplishment that comes with being independent. Learning to do buttons and zippers is part of personal independence. Occupational Therapy helps children learn to do buttons and zippers.
There are so many great ways to help children learn to:
do up buttons
zip and unzip
use press duds (also known as snaps)
You don't even have to be using the buttons and zippers. So many activities practice the specific skills and are lots of fun.
What skills does your child need for buttons and zippers?
They need to be able to some complex things. Our Occupational Therapists explain that children need to be able to:
Bilateral Coordination (using both sides of the body and hands together)
Visual Motor Skills (visual discrimination, eye-hand coordination, and tracking)
Fine motor Skills (finger dexterity and a  pincer grasp)
Motor Planning (completing the activity from the beginning to the end in the correct order)
Why do some children have trouble with self help skills?
For the young children in our Bondi Junction clinic, there are many reasons why they may be behind in their play development. This can include:
However, the reason for the delay in self care skills isn't the important thing. Working with a child to develop independence in this area is what matters. The Occupational Therapist identifies and treats self care skills early which has such positive outcomes.
Let's look more closely at what you can do at home to develop self care skills.
Play activities to work on self care skills
Stringing beads (small, medium, or large beads depending on your child's age)
Cutting paper with one hand while holding the paper with the other hand
Pushing toothpicks into styrofoam
Sorting buttons into different sizes and shapes
Lacing cards
Peeling Stickers
Threading buttons
Using clothes pegs to pick up objects
Squeezing tweezers or tongs to pick up things
Using a hole punch to cut out designs on paper
Early zipper and button activities
Make snake out of buttons
Cut a slot out of an empty box or plastic container and put buttons into the slit
Practise using buttons and zippers on clothing that is not on the child's body
Now you can start practising on clothing that is on the child's body!
What to do if your child's still can't do up buttons and zippers?
Some children will need help learning self help skills.  Occupational Therapists and Certified ESDM Therapists can help children with self help skills. The Occupational Therapist will assess the child to work out what skills need to be strengthened and improved to learn buttons and zippers. For young children in the Early Start Denver Model it is included in their program.
OneOnOne Children's Therapy is a Speech Pathology, Occupational Therapy and ESDM clinic in Bondi Junction in Sydney's Eastern Suburbs. We can be contacted on (02) 80657837 or by email.